Guide To Behavioral Health Training
In the face of global crises of pandemic, war, racial strife, climate calamities, and an epidemic of despair, behavioral health professionals have a more important role than ever before—helping to shape a healthier society.
Our challenges are steep, and the consequences of not addressing a growing—and vastly unequal—mental health crisis are dire.
Where do we start?
We begin by understanding that behavioral health care must be centered in equity and rooted in trauma-informed and gender-responsive practices.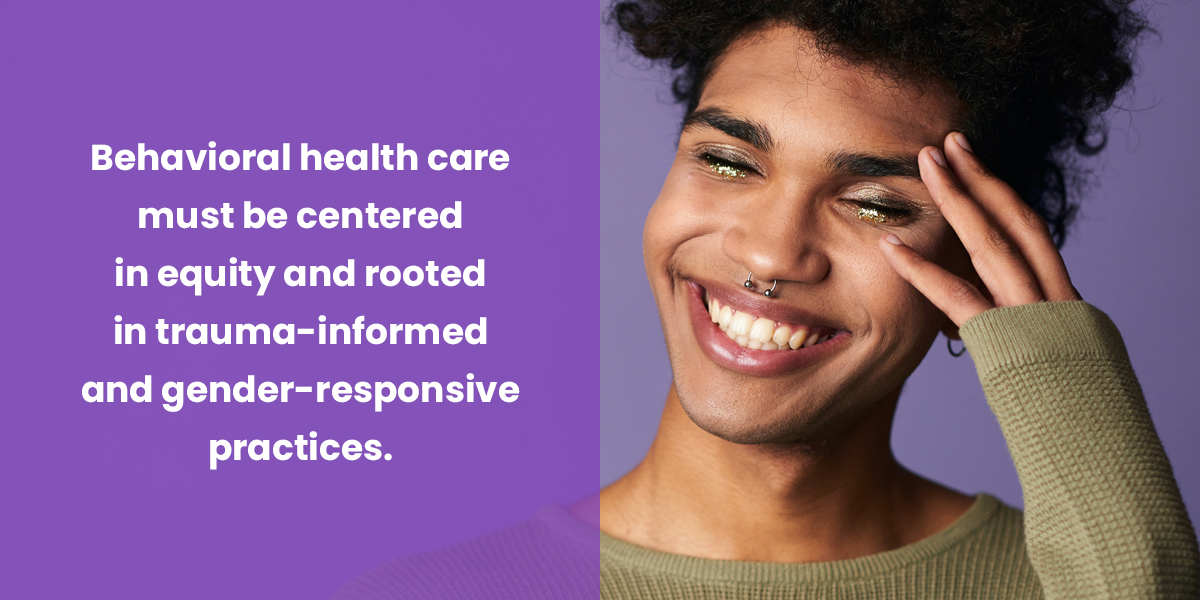 Why are behavioral health professionals seeking trauma-informed and gender-responsive training? What types of learning environments are providing cutting-edge, trusted, and intersectional education to meet the needs of the communities we serve?
The following is a guide to some of the training opportunities that can help clinicians do a better job of reaching and serving the communities that need healing the most.
Behavioral Health Training
Behavioral health professionals are on the front lines of a mental health crisis.
Social workers, counselors, psychologists, marriage and family therapists, and addiction counselors are in high demand. There is a growing need for professionals who can respond to a population that is hurting—from a deadly pandemic, economic distress, racial inequality, addiction, and despair.
Dedicated researchers and clinicians are working to discover the best ways to prioritize trauma-informed, gender-responsive care because it is key to healing.
Experts have developed cutting-edge strategies for delivering trauma-informed and gender-responsive care. Important discoveries are happening in addiction and recovery treatment, cultural competence and antiracism, children and families, trauma treatment, clinical skills/interventions, and veterans' services.
Behavioral health training works best when we learn together in settings where instructors and learners are dedicated to discovering new ways to serve and support communities.
Licensed clinicians are seeking opportunities to advance their management and supervision skills and to learn how to work better with their colleagues. They are motivated to stay abreast of trends and innovations in clinical practice so they can best meet the needs of clients.
Another important aspect of continuing education is for clinicians to recognize and avoid experiencing burnout, compassion fatigue, and vicarious trauma. Because they are often stretched thin by caseloads and career pressures, some clinicians are seeking professional development that helps them to build effective coping mechanisms and to learn mindfulness techniques and other strategies for being more present and effective inside and outside their professional practice.
Alarming statistics from the Centers for Disease Control and Prevention (CDC) on drug overdoses show that more than 100,000 Americans died from drug overdoses from April 2020 to April 2021—a 28.5% increase. Overdose deaths from prescription opioids, synthetic opioids, and psychostimulants all rose. And those are just the deaths.
The 2019 National Survey on Drug Use and Health reported that 20.4 million people (more than 7% of the population above the age of 12) had a substance use disorder. Families, careers, educations, and relationships are harmed when people experience substance use disorders.
For behavioral health professionals, it's key to understand the stigma attached to substance use issues and the ways that trauma, mental health, and substance use issues overlap. Trauma-informed treatment spaces are judgment-free environments where behavioral health professionals can help clients to find access to appropriate treatment.
What are some of the latest approaches to trauma-informed and gender-responsive treatment for substance use disorders?
Opioid Use Disorders. Behavioral health professionals are learning to recognize opiate dependence and how to diagnose and treat it. They are also learning to recognize the ways mental health conditions and substance use disorders overlap, and they are discovering gender-specific approaches to diagnosis, screening, and intervention.
Risk Assessment. Many frontline and primary care clinicians and addictions counselors are developing proven, research-based interviewing skills in order to obtain essential information to screen, assess, refer, and manage acute risk in patients with mental illness, substance use, and other co-occurring disorders.
Interpersonal Neurobiology.

Substance use and post-traumatic stress disorder (PTSD) are common comorbid disorders. Clinicians are examining the intersection of the two from the model of interpersonal neurobiology (IPNB), a theory and working model that helps clients to navigate addiction and trauma recovery.
Clients arrive in treatment spaces from various backgrounds and experiences, some of them quite different from those of their counselors and therapists. How do clinicians ensure that they are meeting the needs of their clients, regardless of their cultural background?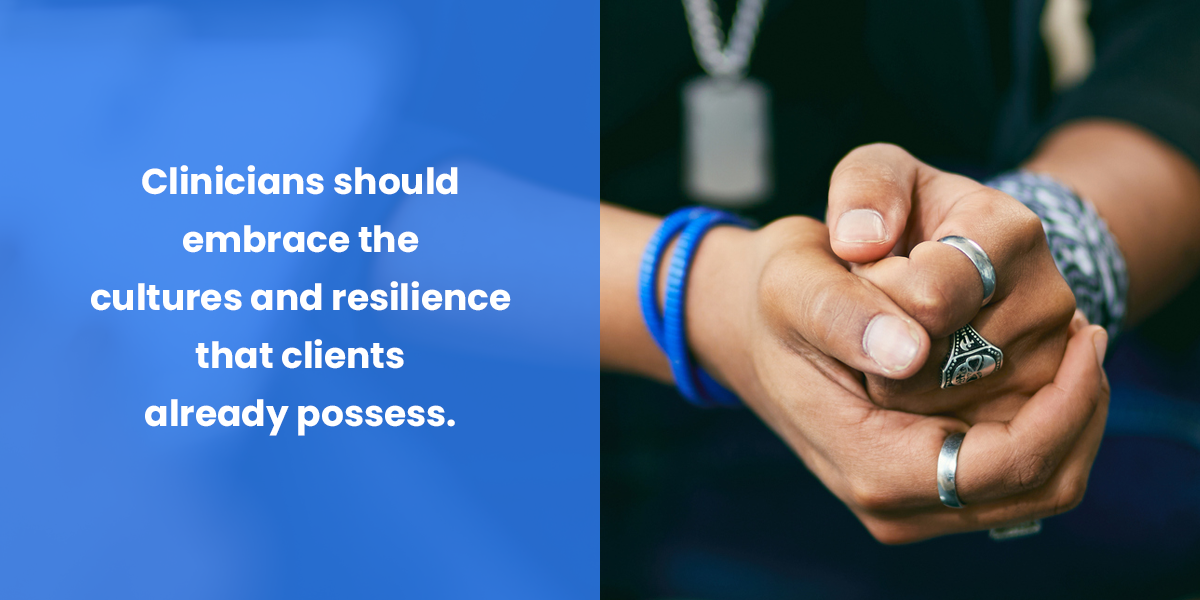 Many antiracist educators and advocates believe that a first step is to approach our lives and work with a sense of cultural humility. Clinicians should have an understanding of the history of race and racism in our country and in mental health care. They should embrace the cultures and resilience that clients already possess.
What are some of the latest approaches to cultural competence training?
Cultural Humility. This approach allows behavioral health professionals to see without judgment the ways their own experiences and identities affect their work and values, allowing for greater authenticity and transformation for both clients and clinicians.
Privilege and Race/Antiracism. This type of cultural competence training unpacks the history of race in the United States, exploring ideas of institutionalized racism and privilege, and discusses how the constructs affect therapists and clinical supervisors.
Workplace Diversity. Participants in these types of workshops explore their own identities: race, ethnicity, gender, religion, sexual orientation, ability, body size, addiction recovery, and more. Clinicians explore the impact of microaggressions and learn to form professional relationships based on mutual understanding and respect.
Working with LGBTQ+ Clients. Clinicians are exploring the intersection of lesbian, gay, bisexual, transgender, and nonbinary identities and trauma, gaining insights into how to best serve LGBTQ+ clients. Topics may include:

Understanding sexual orientation, sexual identity, and gender identity
Learning accurate terminology
Dispelling myths and providing information that will help in addressing sexual and gender identity with clients
Exploring the role of gender socialization and its implications for treatment approaches
When clinicians are working with children and families, they are seeking fresh approaches to trauma-informed care for children, families, and youth. These are educational opportunities to better understand the complicated dynamics of culture, families, and trauma.
The Impact of Social Media. Behavioral health professionals are learning to identify risks and protect youth from the negative impacts of social media.
Boundaries. Behavioral health professionals are helping young people to learn about boundaries and are exploring the impact of adverse childhood experiences (ACEs) on what makes a boundary secure for a young person.
Attachment Theory.

Clinicians are learning about the ways that attachment affects people's ability to interpret their environment and regulate feelings.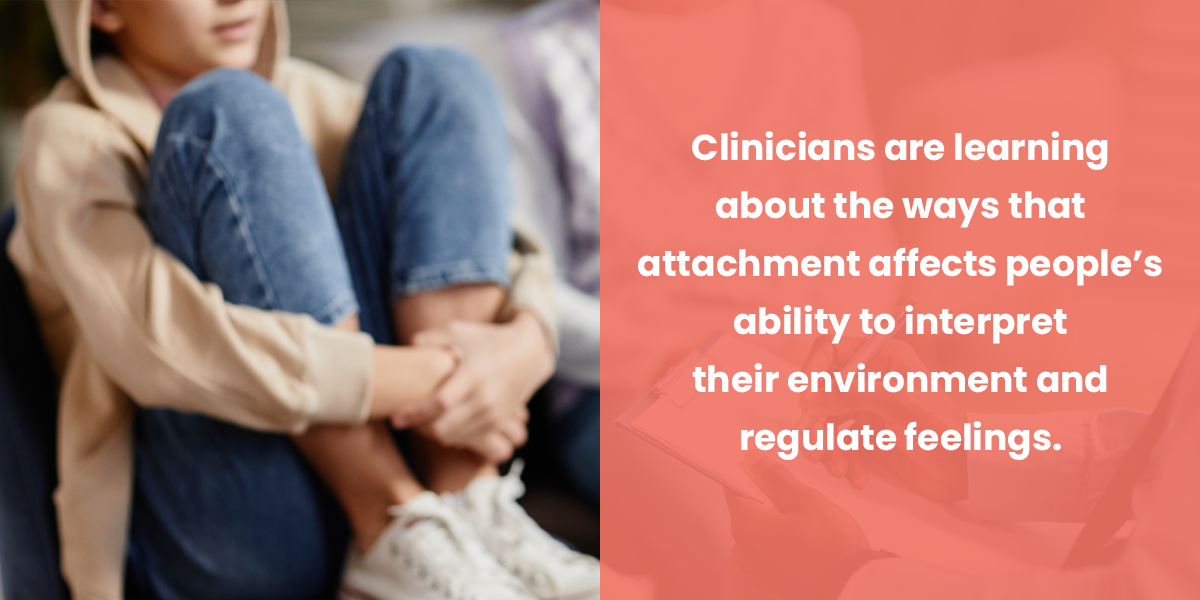 Most of the latest behavioral health training is trauma-informed. Because trauma is experienced in many ways, clinicians are learning about the lasting impact of adverse childhood experiences (ACEs) and approaches for treating trauma in various settings and populations.
Cognitive Behavioral Therapy.

The American Psychological Association strongly recommends

the following four interventions, all of which are variations of cognitive behavioral therapy (CBT):

Cognitive behavioral therapy (CBT)
Cognitive processing therapy (CPT)
Cognitive therapy
Prolonged exposure, a type of therapy that teaches people to gradually approach their trauma-related memories and feelings.

Trauma-Informed Care. Trauma is all too common for mental health and substance use clients. Clinicians are becoming familiar with trauma and post-traumatic stress disorder, learning approaches for trauma-informed and trauma-responsive care, and reviewing types of trauma, including sociocultural trauma.
Screening and Assessment. As clinicians progress in their learning about trauma, they begin to look more closely at diagnostic criteria, screening, assessment, and treatment models.
Trauma and Attachment Theory. Clinicians are learning about the basic concepts of attachment theory, its common classification schemes, and leading ideas on how attachment affects our capacity to interpret our social environment and to regulate feelings.
Trauma and Gender. Clinicians are learning about the intersection of gender and trauma and are exploring resources that help men, women, and LGBTQ+ clients.
When looking to improve clinical skills, behavioral health professionals are looking to develop the approaches that will help them become most effective at their jobs. There are many opportunities to explore available clinical modalities, and many provide opportunities to meet CEC requirements.
The Behavioral Health Aide/Practitioner Knowledge & Skills Checklist is an assessment tool that clinicians can use to self-assess their clinical skills. Supervisors can also use it to determine the level of an individual's clinical expertise.
Intimate Partner Violence. Intimate partner violence is a public health issue affecting millions of Americans. Survivors of this traumatic experience have high risk for anxiety, depression, disease, and substance use. Clinicians are learning how to screen for intimate partner violence and provide interventions and referrals that support individuals at risk.

Affect Management Tools. Affect management helps clients regulate emotions, increase impulse control, experience relaxation, and reduce anxiety.

Intuitive Self-Care. Clinicians are learning ways to support intuitive self-care as a route to prevention and treatment. Approaches like Health at Every Size (HAES) and Intuitive Eating (IE) help participants to understand empowering ways to address negative body image, racism, fatphobia, and other social justice issues connected to bodies. They are also exploring the ways negative body image contributes to perinatal mood and anxiety disorders.

Cognitive Behavioral Theory (CBT). This treatment model focuses on strategies such as stimulus control, cognitive restructuring, emotion modulation, mindfulness, and relaxation.

Gerontology. Trainings on gerontology help clinicians become aware of the challenges faced by older people in their personal and professional lives.
People who have spent time in a war zone have a particular set of challenges and needs for behavioral health care. There are a number of trainings available for clinicians seeking to better serve clients who have served in the armed forces.
Trauma-Informed Veteran Care. Military veterans, members, and their families face unique stressors and traumas, especially if they spent time in a war zone. Professionals working with them to readjust to civilian life benefit from learning about:

The culture, stressors, mental health concerns, and resilience of this population
Military sexual trauma
Community reintegration and the stigma veterans often experience when seeking mental health services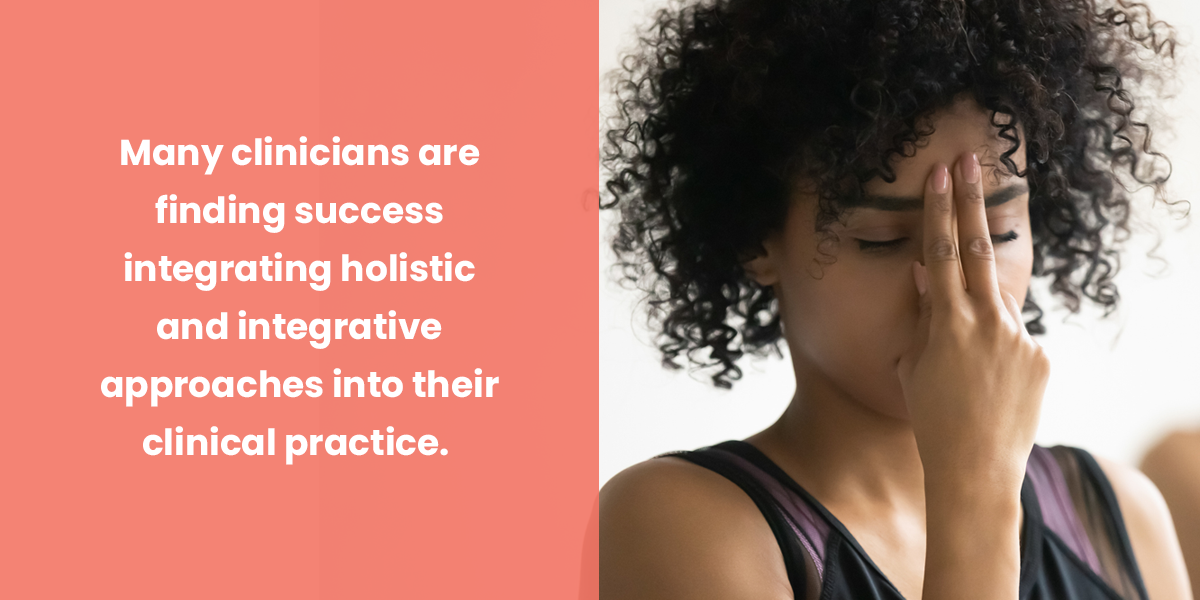 Many clinicians are finding success integrating holistic and integrative approaches into their clinical practice. These types of approaches—sometimes called complementary and alternative (CAM) therapies—overlap with therapeutic approaches but tend to address both physical and spiritual aspects of clients' lives.
For example, people with PTSD and other trauma survivors often experience a host of physical symptoms along with mental health challenges. The 2015 book The Body Keeps the Score by Bessel van der Kolk, MD, helped popularize and legitimize holistic therapies for treating trauma.
Many studies are showing that people with depression, anxiety, stress, addiction, trauma, and chronic pain can benefit from breathing practices, yoga, and meditation. These practices eliminate the separation between body and mind.
Mindfulness, Self-Awareness, and Self-Regulation. Behavioral health professionals are learning about the ways thoughts and emotions can overwhelm our bodies. They are learning techniques to cultivate self-awareness and self-regulation and to respond to feelings that overwhelm.
Vision Boards. Clinicians are helping clients to set goals and explore their vision for their lives with these hands-on creative approaches.
Energy Therapies.

Some clinicians are learning therapies like Reiki, qigong, Healing Touch, and energy psychology.
The Future of Behavioral Health Is Trauma‑Informed and Gender‑Responsive
Every day, exciting innovations and partnerships are improving behavioral health in ways that lead to high-quality, culturally responsive care for more people.
There are thousands of opportunities for behavioral health professionals to learn more about how to do their jobs more effectively, to approach clients with cultural humility, and to address the specific needs of more individuals.
The goal of behavioral health training is for every clinician to respond to the traumas that afflict far too many people and to meet the intersectional needs of all people, regardless of race, gender, sexuality, gender identity, or ability.
When quality behavioral health care is accessible, trauma-informed, and gender-responsive, the world is transformed for the better.
© 2023 The Connecticut Women's Consortium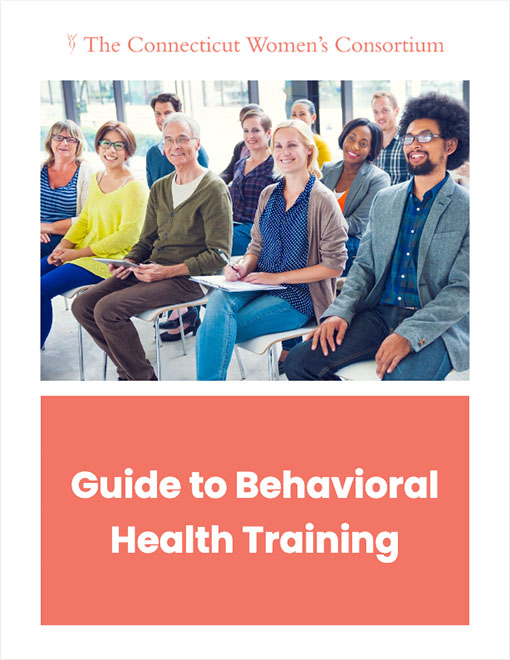 Download this page as a PDF.