Your Guide to On-Demand Online Behavioral Health Training
Discover 50+ Opportunities to Further Your Education
The behavioral health field is changing as quickly as the world is. We offer cutting-edge, trauma-informed training to meet your need to learn and grow.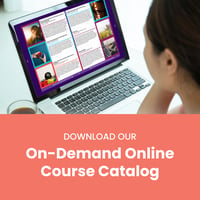 Behavioral health professionals are eager to learn more about how to better serve families and communities. Our on-demand training catalog introduces you to fresh approaches and best practices in a variety of topic areas, including:
Addiction and recovery
Cultural competence
Children and families
Trauma treatment
Clinical skills
Veterans' services
For more than two decades, the Connecticut Women's Consortium has been a leading educational resource for trauma-informed and gender-responsive care and a trusted advocate for behavioral health professionals.
Learn and grow with us. Complete the form to download our On-Demand Online Course Catalog today!