A Guide to Building Trauma-Informed Practices and

Organizations
There are few absolutes in this world, but trauma is one aspect of human society that is, unfortunately, present in almost every age, race, ability, and socioeconomic group.
Trauma from violence, abuse, war, neglect, and loss has a ripple effect, damaging families and relationships and disrupting communities. When trauma is unaddressed, it increases the risk of mental health disorders, substance use, and chronic physical issues.
Although trauma has no boundaries, it does have a disproportionate impact on marginalized populations such as LGBTQIA+ folks, people of color, and people with low incomes. Gaining access to trauma-informed resources and care is more difficult for these populations.
"With appropriate supports and intervention, people can overcome traumatic experiences," write the authors of the Substance Abuse and Mental Health Services (SAMHSA) guide, SAMHSA's Concept of Trauma and Guidance for a Trauma-Informed Approach. That is why behavioral health professionals and organizations need to understand trauma and address it as an essential part of health service delivery. Our response to trauma is most effective when multiple agencies and organizations provide coordinated, trauma-specific assessment and treatment.
This guide will introduce you to the basic principles of trauma-informed care, help you get started in your journey as a trauma-informed behavioral health professional, present ways you can help your organization to become more trauma-informed, and connect you with valuable resources.
What Is Trauma-Informed Care?
The Trauma-Informed Care Implementation Resource Center's website provides excellent resources, including this clear description of trauma-informed care: "Trauma-informed care shifts the focus from 'What's wrong with you?' to 'What happened to you?'"
A trauma-informed approach to care is based on an understanding of the experience and implications of trauma for individuals, families, and communities. Trauma is not just a health care issue. Multiple service sectors interact with people who have experienced trauma.
What is trauma? And how can we tell if someone has experienced it?
Trauma is what happens when the extreme stress of an event or circumstances overwhelms a person's ability to cope. Those circumstances vary, but they are all threats to physical or emotional health: violence, hate crimes, sexual abuse, or anything else that causes extreme stress.
After decades of work in the field, SAMHSA convened an expert panel and compared multiple definitions and descriptions of trauma. The result was the following statement:
"Individual trauma results from an event, series of events, or set of circumstances that is experienced by an individual as physically or emotionally harmful or life-threatening and that has lasting adverse effects on the individual's functioning and mental, physical, social, emotional, or spiritual well-being."
SAMHSA's definition further explores the following elements highlighted in the statement, calling them the three Es of trauma.
1. Events. Traumatic events can include natural disasters, violence, the threat of physical or psychological harm, or actual harm. It also includes life-threatening neglect that impedes healthy development.
2. Experience. Because everyone is unique and reacts differently to circumstances, the person's experience helps to determine whether an event is traumatic. Almost always, traumatic events involve a power dynamic where the person experiencing the trauma feels powerless or finds themselves questioning why it happened to them and what they could have done to prevent it. This is especially true when a trusted caregiver abuses someone. Cultural context and other factors have a major impact on the experience of trauma as well.
3. Effects. Trauma changes people in many ways, and the effects of trauma may happen immediately or months, or years later. A few possible effects from trauma include:
Inability to cope with the stress of daily living

Difficulty trusting and benefiting from relationships

Trouble with cognitive processes like memory, attention, and thinking

Difficulty regulating behavior or emotions
It's a lot to cope with, and that's not all. Trauma has physical effects, too, such as hyperarousal, numbness, and related health problems.
Trauma is a part of our daily lives, and it's more common than most people think.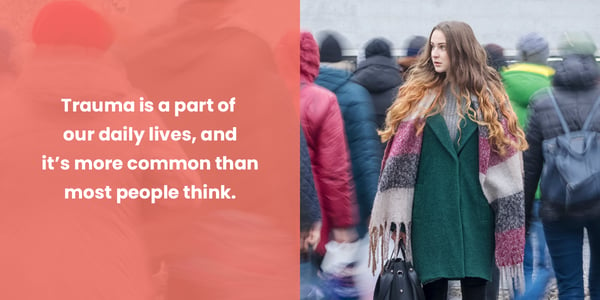 Trauma is common in our world, especially among young people.
One SAMHSA study found that
8% of youth between the ages of 12 and 17 reported a "lifetime prevalence of sexual assault."

17% reported physical assault.

39% witnessed violence.
One of the most common tools used to determine if someone has experienced trauma is the adverse childhood experiences (ACE) study.
The ACE Score Questionnaire is an assessment tool used by thousands of professional clinicians and researchers. It includes questions that help determine if someone was mistreated by an adult, whether abuse of others was occurring in the home, whether they grew up feeling like they didn't have enough to eat, or if their parents were too impaired by drugs and alcohol to take care of them.
The negative outcomes of ACEs are numerous, including injury, mental health conditions, maternal health concerns, infectious and chronic disease, risky behaviors, and missed opportunities in school and life.
In this TedMed Talk, pediatrician Nadine Burke Harris explores the connection between the trauma of ACEs and brain development. In her presentation, Burke Harris points out that the effects of untreated trauma across a lifetime are devastating. For example, people who grew up with high levels of trauma are three times more likely to get cancer or heart disease.
According to the Centers for Disease Control (CDC), 61% of people report experiencing at least one type of adverse childhood experience (ACE) before age 18, with one in six experiencing four or more types of ACEs.
The Societal Costs of Trauma
Young people who have experienced trauma may experience negative effects in many aspects of their lives. They may struggle socially in school, get lower grades, and be suspended or expelled. They may even become involved in the child welfare and juvenile justice system. And they often experience more physical health problems as they grow older, like diabetes and heart disease.
That's why the work of behavioral health professionals in providing trauma-informed treatment is so critical in these formative years.
People who are victims of violence face an increased risk of becoming perpetrators of violence. As a result, vulnerable populations and communities experience disproportionate levels of trauma.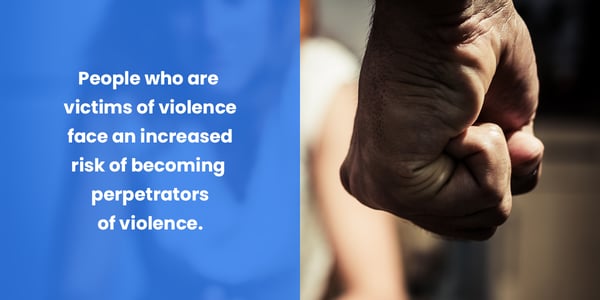 The Difference between Trauma-Informed and Trauma-Specific Services
Thanks to the pioneering work of the ACE study and the dedication of trauma-informed clinicians and researchers, we are learning more about how to address trauma to help people heal from the events of the past. There are two main types of trauma treatment:
Trauma-informed treatment, which incorporates knowledge of trauma even though the treatment focuses on substance use, mental health disorders, or other issues.

Trauma-specific treatment, which is specifically designed to address trauma.
There are many approaches to treating trauma in behavioral health settings. Sometimes group therapy is an affordable option that offers a chance to develop bonds with others in similar situations. For some people, individual therapy provides a more intimate space for focusing on their specific experiences.
The following are some well-known trauma-specific treatment models for individual treatment:
Trauma Affect Regulation: Guide and Education Therapy (TARGET) by Julian Ford, ages 10+

Eye Movement Desensitization and Reprocessing Therapy (EMDR) by Francine Shapiro

Accelerated Resolution Therapy (ART) by Laney Rosenzweig
And there are group models, too, including:
Seeking Safety by Lisa Najavits

Trauma Recovery and Empowerment Model (TREM) by Maxine Harris

M-TREM by Roger Fallot

Beyond Trauma by Stephanie Covington

Exploring Trauma by Stephanie Covington with Roberto Rodriguez

Healing Trauma by Stephanie Covington with Eileen Russo
Why Is a Trauma-Informed Approach Important?
On a fundamental level, a trauma-informed approach is important because it shifts the focus from deficits and brokenness to a holistic healing way of understanding the context of a person's stressors and behaviors.
Clients and providers both benefit from a trauma-informed approach because many people who have experienced trauma have challenges in maintaining healthy relationships, including with care providers. The positive, trusting relationships that are nurtured with a trauma-informed approach are not only better for clients, but they also help clinicians avoid burnout.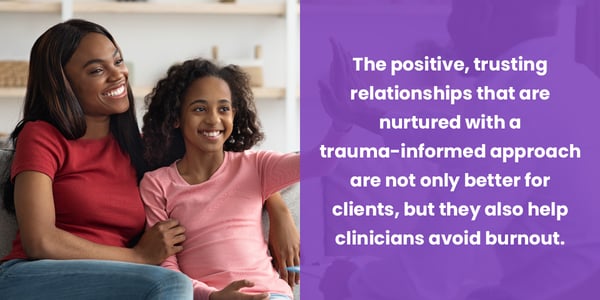 SAMHSA and many other respected authorities emphasize that a trauma-informed approach is essential because of the danger of re-traumatization. Some organizations unintentionally create stressful situations or environments that interfere with recovery from trauma.
That's why we need to understand how to create a trauma-informed environment in our practices and organizations.
Six Principles of a Trauma-Informed Approach
SAMHSA provides a helpful framework for understanding and implementing a trauma-informed approach. It includes six elements.
1. Safety. All people, children and adults, need to feel physically and psychologically safe with clinicians, with the organization, and in the physical setting.
2. Trustworthiness and transparency. Clients and families need to trust the organization and staff, and all the operations and decisions need to be open and transparent.
3. Peer support. "Peers" in this context are people who have lived experiences of trauma, or family members of children who have experienced traumatic events and are caregivers. They are sometimes called "trauma survivors." Involving these people in the recovery process is important for establishing safety and hope.
4. Collaboration and mutuality. Because trauma often involves power differentials, it's important to level out power differences between staff and clients and between organizational staff members. Sharing power is a key element to a trauma-informed approach.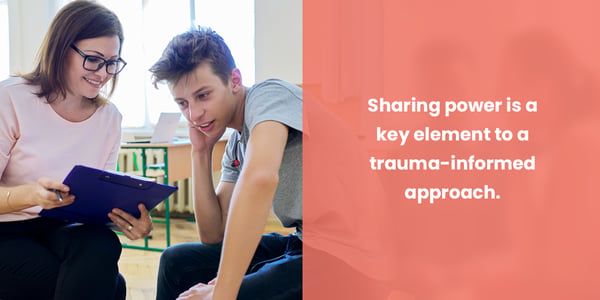 5. Empowerment, voice, and choice. This principle involves centering the individual's strengths and experiences and fostering a culture that believes in the ability of people to be resilient in the face of trauma, to heal, and to promote recovery. As SAMHSA puts it, "The organization understands that the experience of trauma may be a unifying aspect in the lives of those who run the organization, who provide the services and/or who come to the organization for assistance and support."
6. Cultural, historical, and gender Issues. Trauma-informed organizations work intentionally to erase biases and stereotypes based on race, gender identity, ethnicity, sexual orientation, age, religion, and geography. They honor the traditional cultures of clients and communities and recognize the presence of community and historical trauma.
A Trauma-Informed Approach Makes a Difference
There are many excellent resources available to get started on your journey to providing trauma-informed care. This video from the Trauma-Informed Care Implementation Resource Center provides a helpful introduction to the concept.
The following are some steps for adopting a trauma-informed approach.
Learn the basics of trauma and its effects on health. Many past issues of CWC's journal, Trauma Matters, explore different facets of trauma and trauma treatment.

Hear from others who have adopted trauma-informed care. This can happen informally or at conferences such as the Connecticut Women's Consortium's Trauma & Recovery Conference or at other gatherings of professionals committed to trauma-informed approaches.

Educate yourself and your colleagues on trauma-informed approaches, including continuing education on trauma-informed approaches.
10 Ways Your Organization and Practice Can Become More Trauma-Informed
The Trauma-Informed Care Implementation Resource Center has a helpful framework for helping providers become more trauma-informed. It is broken down into six organizational practices and four clinical practices.
Communicate about being trauma-informed

Engage clients in organizational planning

Train clinical and non-clinical staff

Create a safe physical and emotional environment

Prevent secondary traumatic stress in staff

Build a trauma-informed workforce
Involve clients in the treatment process

Screen for trauma

Train staff in trauma-specific treatments

Engage referral sources and partner organizations
Seek Training for Staff and Clinicians
The Connecticut Women's Consortium has a number of on-demand and live courses related to trauma. The following are a few examples of topics:
Using the ACE study to inform practice

Creating trauma-informed spaces and cultures

The relationships of ACEs to adult well-being

Using a trauma-informed framework for working with different populations

Using a trauma-informed approach with survivors of intimate partner violence

For more details on educational opportunities, the Guide to Behavioral Health Training is a great place to start.
Trauma-Informed Organizations
No matter where your organization is on the journey to trauma-informed care, there are steps you can take to move in that direction. SAMHSA provides the following guidelines for organizations seeking to adopt a trauma-informed approach.
Successfully Implementing Trauma-Informed Care
1. Organizational leadership. The leadership and governance of the organization champions the approach, invests in support to implement it, includes peer voice, and takes responsibility for leading the transformation.
2. Policy. The organization has policies and protocols in place to establish trauma-informed principles as part of its mission.
3. Physical environment. The physical environment of the organization is a safe, inviting space where people do not experience physical or psychological threat. It also supports the principles of collaboration and transparency.
4. Engagement of survivors and family members. People in recovery, trauma survivors, people receiving services, and family members receiving services all are involved and have a voice and choice in the way the organization functions.
5. Cross-sector collaboration. People with trauma histories often have complex needs that cross over into various service sectors. Treatment is more likely to succeed when all the sectors share an understanding of trauma and the principles of a trauma-informed approach.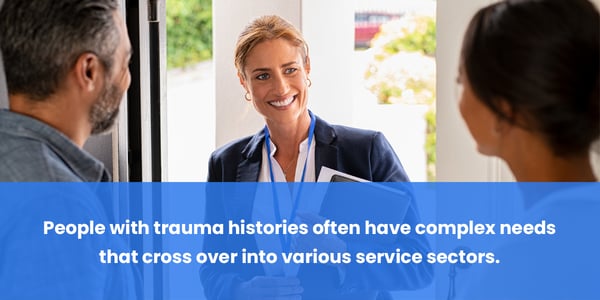 6. Screening, assessment, and treatment services. Clinicians are trained in and utilize evidence-based assessments and interventions that reflect the trauma-informed approach. They also offer trauma-specific services or refer individuals and families to services that offer appropriate treatment.
7. Training and workforce development. The organization provides ongoing training on trauma and peer support, and the HR system considers trauma-informed principles in hiring, supervision, and evaluation. It also supports staff who have traumatic experiences or vicarious trauma from working with traumatized individuals.
8. Financing. The organization invests in a trauma-informed approach, including resources and training for staff, developing safe facilities, establishing peer support, and using evidence-based methods of screening, assessment, and treatment.
9. Ongoing assessment and monitoring. The organization uses measures and evaluations that reflect an understanding of the principles of the trauma-informed approach.
Getting Started with a Trauma-Informed Checklist
The journey to trauma-informed care begins with an honest appraisal of where your practice and organization are in the journey. The Connecticut Women's Consortium's free Trauma-Informed Care Self-Reflection Checklist is a great place to start. The checklist allows you to learn where your opportunities for growth are in the following areas:
Safety. Your ability to provide physical and emotional safety for clients, assess for danger and trauma, respect clients' preferred pronouns and names, and share clear guidelines about the therapy process.

Trustworthiness. Your ability to work with clients on goals, level of transparency, and clarity and consistency.

Choice. Taking client's treatment preferences into consideration, prioritizing their goals, and collaborating with them on planning.

Collaboration. Using collaborative language, valuing clients as experts in their own needs and wants, and providing or referring them to trauma-specific services.

Empowerment. Recognizing and nurturing clients' strengths and skills, using reflective listening skills, recognizing and including the impact of marginalized identities.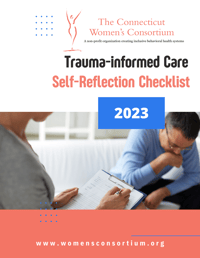 Training and personal development. Participation in basic trauma training, cultural competence work, self-care, and addressing secondary traumatization. Or training in trauma-specific treatment models such as EMDR, Seeking Safety, or the Trauma Recovery and Empowerment Model.
Toward a Trauma-Informed Future
We are living in a time of crisis for mental and behavioral health. But the good news is that there is a growing investment in resources, tools, training, and support for behavioral health professionals working on the front lines to help the process of recovery.
When more organizations embrace the trauma-informed approach, the path to recovery becomes clearer.
© 2023 The Connecticut Women's Consortium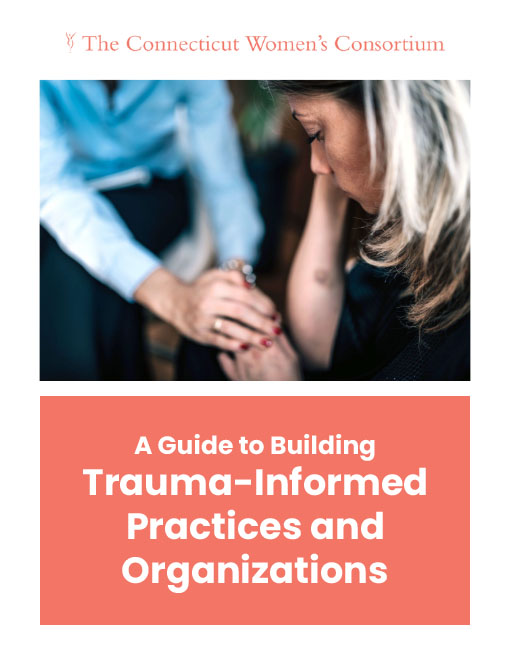 Download this page as a PDF.